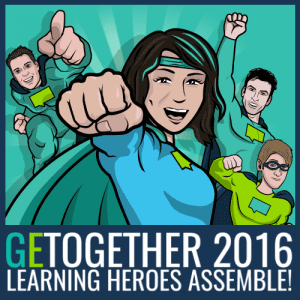 Not since 'The Avengers' had there been so much anticipation over a gathering of superheroes. On Wednesday 7th December 2016, Windsor Guildhall, in all its historical splendour, played host to Growth Engineering customer conference, GEtogether16!
A Hero's Welcome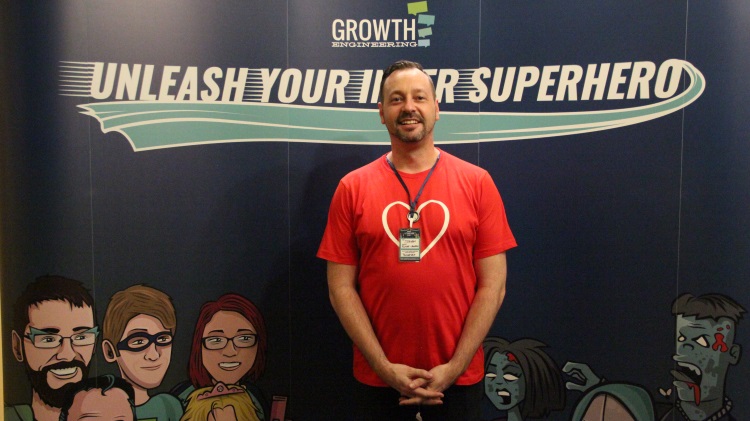 Steven Elvin from Flight Centre, flew in from Australia (like a true superhero) to be at the event. We caught up with, and got his thoughts on what he wanted from GEtogether16. "I'm really looking forward to seeing what others are doing with regards to learner engagement and excited to see what GE has in store for 2017". 
Upon arrival, we asked our heroic customers to write down their superpower for all to see. How else are people meant to know who can heat up a cup of tea with their laser eyes? John Shaw from Topps Tiles chose, putting people at ease, as his superpower. He was obviously using his abilities on the entire room as customers began chatting away and greeting each other like old friends.
A Hero's Journey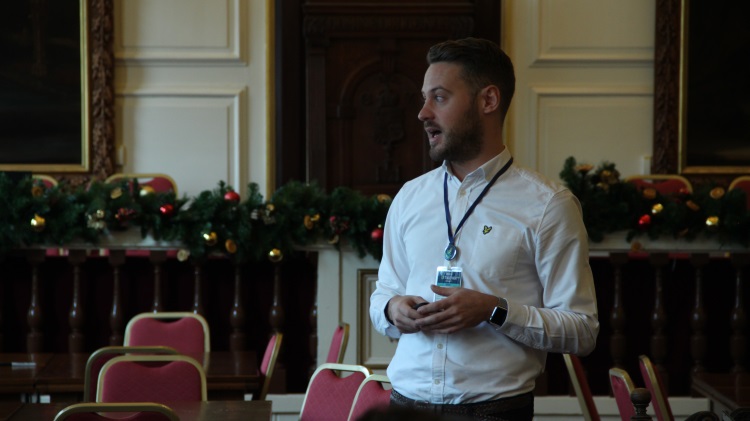 Andrew Seddon from EE giving an awesome presentation on their Growth Engineering origin story. No radioactive spiders were needed as Andrew explained, "EE strives to be a beacon of knowledge for its customers and we needed our employees to reach this level by rewarding their learning. Enter Growth Engineering…"
Batman has almost definitely done a presentation to all the other superheroes, bragging about how cool his Batmobile is, so it's only fair that we provided the same opportunity. Our awesome clients EE, Juice, MyHomeMove and Flight Centre took to the stage and dazzled the audience with their eLearning adventures…
All the presentations highlighted the emerging power of mobile learning. MyHomeMove reporting that their mobile users had doubled since April.
Flight Centre made us blush by saying Growth Engineering has reinvigorated the L&D department
Dipesh from MyHomeMove celebrated their 2-year anniversary with Growth Engineering.
Juice reported a 40% use of eLearning outside of office hours
All the presentations praised the wonders of Gamification, often citing examples of running out of content as learners went in search of XP, badges and leaderboard bragging rights.
Heroes Assemble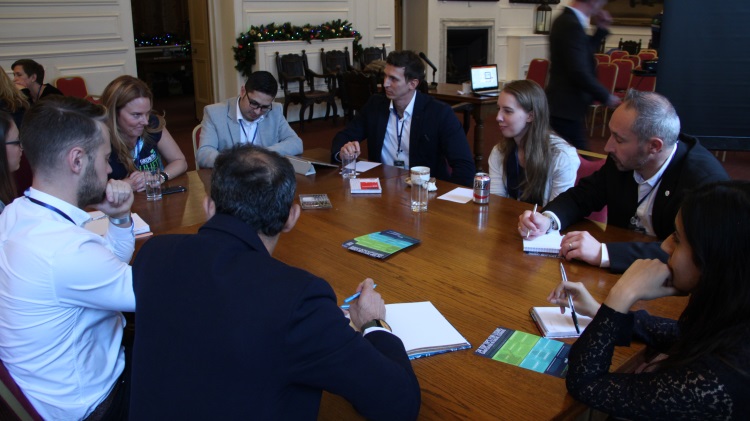 A group of learning managers learning together about social learning, what is this inception-level madness? Thomas Noeller from Maxpert Training wished he had the superpower to freeze time, "I loved the focused group discussions and wish the whole event could have been longer!".
To honour some of the very first superheroes, Arthur and his Legendary Knights, we held a roundtable with customers to discuss key areas of online learning. The subjects up for discussion were gamification, social learning and epic meaning. . Growth Engineering's caped crusaders led the discussions and customers shared their boredom blasting experiences. This got the other Growth Engineering clients talking about their platform and everyone came away with ideas they wanted to implement.
Roundtable Highlights:
Topps Tiles have encouraged social learning within insight groups. When customers bring in unknown tiles, Topps employees uploaded them to an insight group for people to identify.
Creating character admin accounts that can interact with learners has increased engagement.
Gamification has produced situations where our customers ran out of content as learners seek to top the leaderboard.
A Hero's Destiny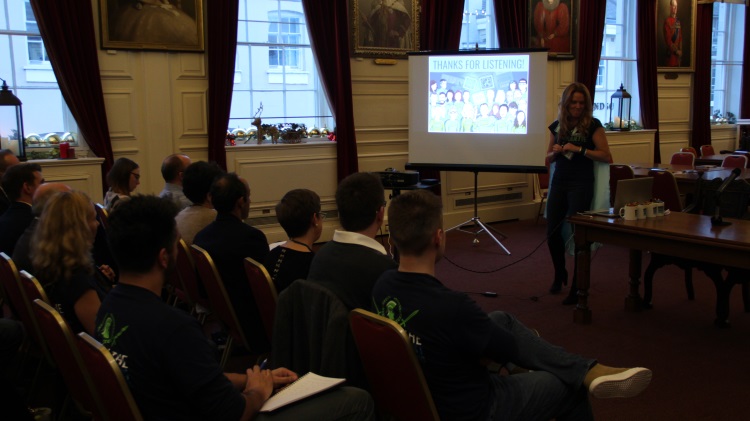 Growth Engineering's plans for 2017 remain a GEtogether exclusive for now, but just look how frozen in awe everyone is at their revealing…
Our Ideologist in Chief, Juliette Denny, unveiled Growth Engineering's roadmap for 2017. It's going to be a very exciting year and although we can't say much, rest assured, the days of zombie learners are numbered. In the words of Juice Recruitment, "we can't wait for what 2017 will have in store for our LMS".
A Hero's Reward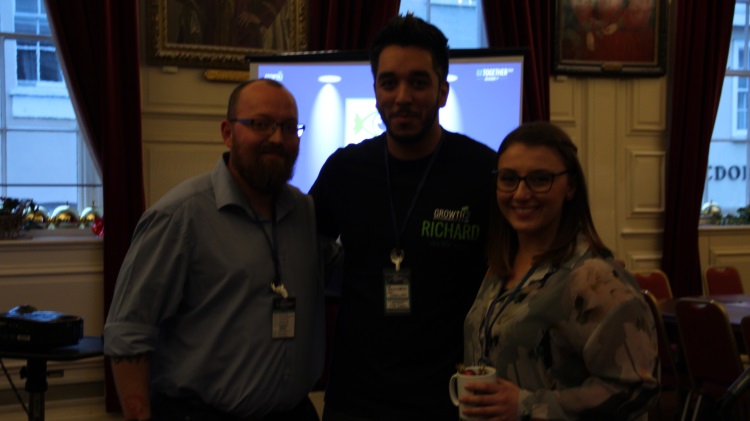 Adam Taylor-Reece and Emma Kent from House of Fraser collecting 'The eLearning Eye Candy Award'. They have managed to produce a beautiful platform that's enough to make even a fully grown LMS blush. Adam and Emma dedicated the award to their "extremely creative L&D team which works together with Growth Engineering to turn ideas into reality". 
The trouble with being an eLearning Superhero is that people get used to your awesomeness and don't reward you with a super funky mug filled with chocolate. Here comes the GEtogether16 Awards to save the day…
The A-Team Award- JUICE
The Epic Meaning Award- FLIGHT CENTRE
The Gamification Guru Award- CISCO
The eLearning Eye Candy Award-HOUSE OF FRASER
Well done to all award winners on an epic 2016, you really do put the 'Super' in superhero!
A Hero's Farewell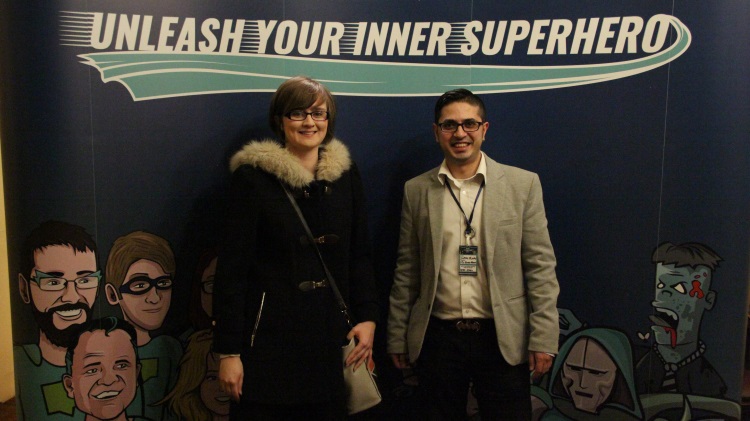 Dipesh Mistry and Claire Storr from MyHomeMove left the event having used their networking superpowers to great effect, "we can implement what we have learnt from other customers and implement it into our 2017 strategy". That's what the GEtogether is all about!
GEtogether16 drew to a close with the traditional clinking of glasses to celebrate another year of fighting the war on dull online learning. No engagement matter seemed too small. No subject matter too big. Zombie Learners watch out, Growth Engineering's superhero customers are coming for you and they are boredom busting learning legends!
Want to join the league of learning Superheroes?  Sign up to our blog on the top right of the page and become a caped crusader in 2017!