GENIE AUTHORING TOOL FEATURE LIST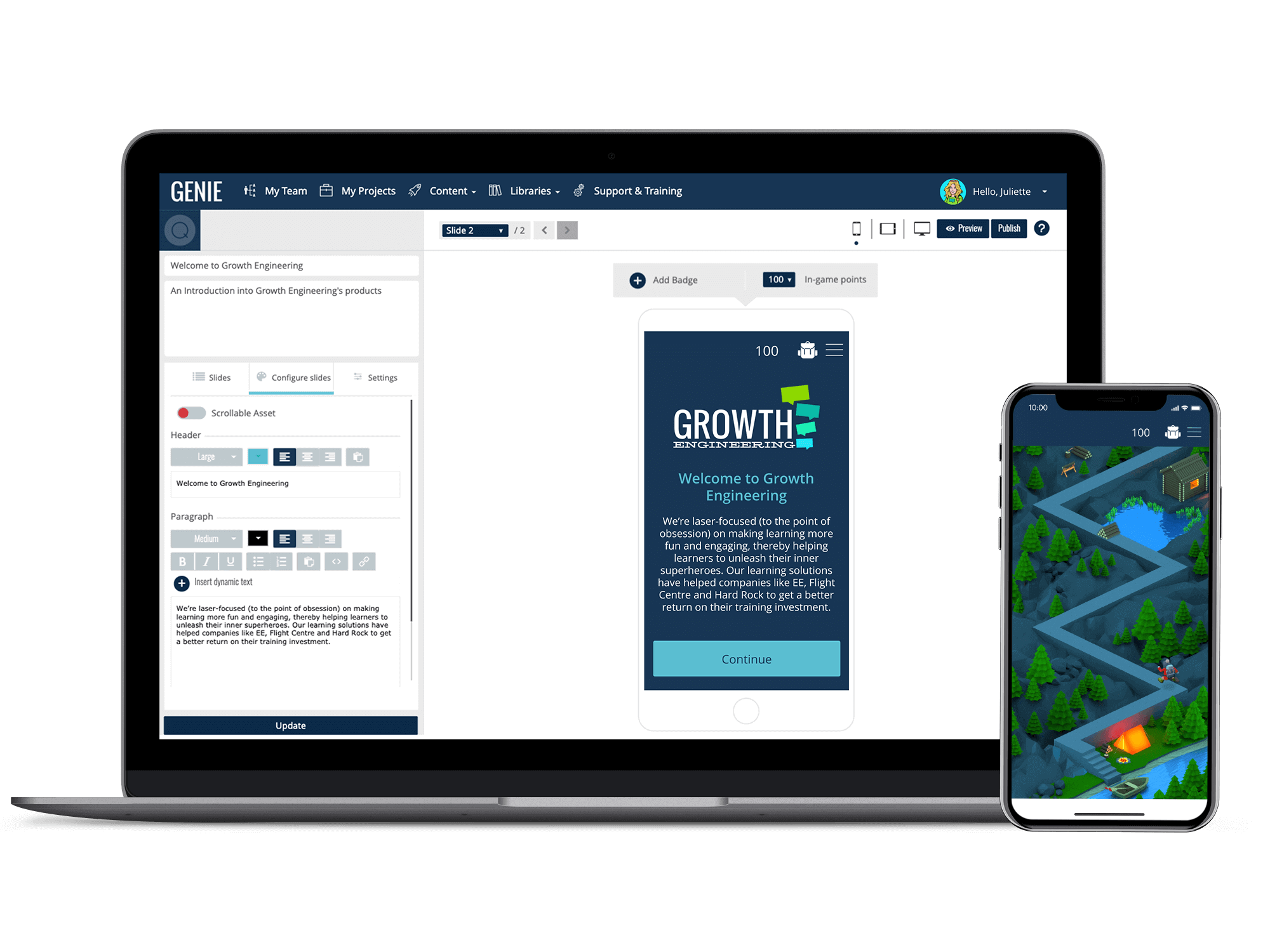 LAST UPDATED: 25TH SEPTEMBER 2020
This simple colour-matching game is a mobile gaming favourite and now you can use it to support your training programme. You can even match the colours to your own brand
(see: Template Re-Branding)
.
Speedy reactions and good hand-eye coordination are needed for this mobile spin on a classic fairground attraction. Learners can pause to catch their breath with unlockable learning assets.
You can make the learning more effective by aligning it with your organisation's brand and objectives. Our team of designers can create the ideal learning game, skinned for your learners.
In Mountain Master, your learners can test their reflexes on their mission to get to the top of the mountain. As they pass each checkpoint, they'll unlock a vital piece of learning content.
We are always developing new game templates! Watch out for Mental blocks and Fast Tracks coming soon!
If you have an idea for something that will get your learners excited, our developers can create a learning game that does exactly what you need it to. Contact us today to get started.
With Genie, you can create an entire library of virtual rewards for every occasion. Upload your own image, give it a catchy name and description, then use it in any of your learning games.
•

INTEGRATED LEADERBOARDS
Used in conjunction with the Academy LMS or the Knowledge Arcade, each of your learning games can have its own leaderboard letting every learner see how they compare against their team mates.
Experience Points (XP) can act as a virtual currency for your learners. Genie lets you switch this functionality on and award points to learners who complete learning objectives within the game.
Your learners race against the clock to answer questions as quickly as possible and earn bonus points.
For those tough questions where you need a little extra help, you can use your 50/50 or Ask Genie wildcards!
Peer-to-peer quiz-based battles, built from a giant pool of questions! The goal of this content type is to help the learner exhibit competency over a subject matter. The competitive element helps to drive activity, as everybody seeks recognition amongst their peers.
•

BATTLE SQUADS (COMING SOON!)
Get together in squads and play capture the territory by completing (and winning!) as many battles as possible within a certain time window. This is great for pitting entire offices or small teams against other locations and teams, and building competitive team spirit!
•

MULTIPLE CHOICE QUESTIONS
You can fill your Question Bank with multiple choice questions, arranged in categories to suit your needs. With multiple licenses, you can also invite your subject matter experts to create questions.
With this question type, the question creator can specify a correct answer in text form. The learner must input the same text in order to get positive feedback when they submit their answer.
For each question in Genie, you can attach further learning assets. These are released to the learner if they get the question wrong and let you deal with the knowledge gap on the spot.
This question type adds an extra level of interactivity. It lets your instructional designers create groups of items and ask your learners to place each item in the correct group.
This versatile question type allows you to create units with dynamic text which changes according to learner inputs. The learner can also download their answers in a workbook at the end.
•

SCENARIO BASED QUESTIONS
Using a dialogue format, you are able to put your learners in real life situations to practice and assess their responses.
You can set a pass mark for each Genie unit to ensure your learners thoroughly understand each topic before moving on to the next.
When used in conjunction with the Academy LMS or the Knowledge Arcade, Genie's content types let you report on the metrics that matter and discover which content is working for you.
Genie's learning content is created to make use of the latest eLearning standards, like xAPI, giving you a more complete picture of their behaviour than ever before.
You can use Genie's reporting tools to filter your results down to the level of individual questions. This gives greater flexibility and lets you build your own custom reports.
Your team of content creators can upload image files and arrange them by category in the Asset Library. This lets you support your learning units with photos, charts and eye-catching infographics.
Genie contains a lightweight audio player, letting you upload and use audio files in your units. This means that you can include voice samples, interviews or even entire podcasts in your training.
Genie's learning units support the most common types of video files (mp4, mpg). Content creators can manage the videos in the Asset Library and add them to any learning unit they produce.
Using the question feedback settings, training managers can push assets to learners with gaps in their knowledge. These can include documents, like PDF files, which can be managed in the Asset Library.
Easily input, edit and upload text, with all the functionality of word processing tools.
•

USER GENERATED WORKBOOKS
Genie's Discovery Method tool helps your learners create their own content as they learn. Prompts throughout the unit ask for learner inputs. These are gathered in a PDF document which the learner can then download.
If you encounter any bugs or technical issues, you can submit a ticket in the Support Centre. A member of the Growth Engineering support team will ensure that your issue is dealt with as soon as possible.
On your first visit to Genie, the quick setup wizard will guide your through the application, showing you where everything is and how best to use it.
If you need a little help, you can access Genie's tutorial videos at any time. These handy demonstrations show all of Genie's main features and how best to use them.