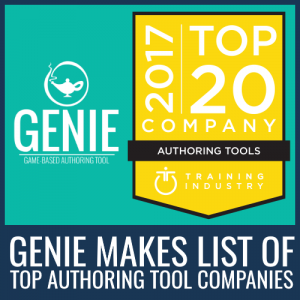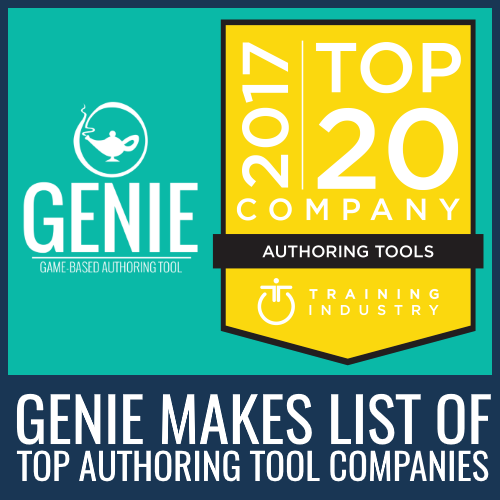 What happens when you create an awesome piece of learning magic? It just keeps winning awards left, right and centre, that's what! Less than two weeks into the new year and we'd found out that Genie, our game-based authoring tool had landed on Training Industry's 2017 Top Authoring Tool Companies List! If you're having a weird sense of déjà vu, don't worry – it's the second year in a row that Genie's been named as one of the most innovative instructional instruments you can get!
Genie's not like those beige and boring authoring tools that you've come to know and loathe. Instead of simply churning out dull and uninspiring eLearning units, it lets you create learning games from built-in templates. That's right – you don't need to be a game designer, or even know a game designer, to make game-based learning a reality! If that's not worthy of a Training Industry list, then we don't want to know what is!
Who are Training Industry?
If you're not familiar with Training Industry, their lists highlight the cream of the crop when it comes to learning technology. According to Ken Taylor, President, Training Industry, Inc:
Download Your Free White Paper

"The 2017 Top Authoring Tools Companies List recognizes the organizations that enable the creation of interactive and engaging training. These companies are at the forefront of their sector, delivering the most advanced and intuitive authoring tools available in today's learning technologies market."
With all of the awards we keep winning, you'd think we'd be blasé about it by now, but we're still as thrilled as ever – none more so than Juliette, our MD:
"This is absolutely awesome news! I'm over the moon to find Growth Engineering on Training Industry's list,"
she said,
"and if they think Genie's good, they should see what's coming in 2017…"
[us_separator type="invisible" icon="fas|star"]
Cryptic and tantalising words there from our chief ideologist, if you want to know what that's all about, don't forget to subscribe to our blog! And if you want to take Genie for a test drive and see what all the fuss is about, just click the button below to start your free 30-day demo!