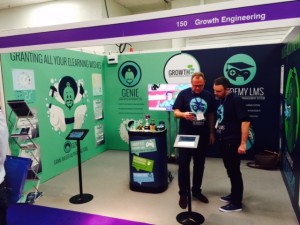 We're back from Learning Technologies 2015, and what an event it was!
After taking a break from the event – held in Olympia Central in London on Wednesday 28th and Thursday 29th January – for a couple of years, it was a great experience to be back in the action and exhibiting alongside hundreds of other training companies, eLearning creators and technology companies.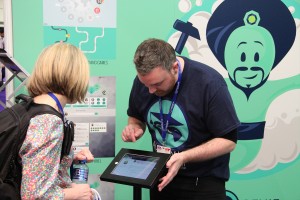 Learning Technologies hosts a huge number of free seminars for visitors, though we noticed a few exhibitors sneaking into seminars, too – us included! The seminars ranged from the basics of online learning and blended learning to creating eLearning apps and discovering the importance of compliance for L&D. Whatever your area of interest, there were seminars for you. We particularly enjoyed JollyDeck's talk on good and bad uses of gamification, and of course our MD Juliette Denny's talk on how to create awesome game-based eLearning.
We were busy from start to finish, showing people the Academy LMS – our multi-award winning Learning Management System which was recently voted the #1 LMS in the world – and our brand new game-based authoring tool, Genie, which we launched at the event.
We're really excited about Genie; it's a unique authoring tool that focuses on making eLearning simple and effortless for content creators as well as fun and engaging for learners – a win/win, if you ask us!
There are just five simple steps to create awesome game-based learning with Genie: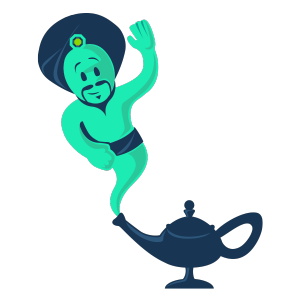 Upload your assets (images, videos, sound bites)
Build your question bank (type in questions and answers – select from yes/no, multiple choice or text)
Pick one of Genie's game templates (e.g. Around the World, Pole Position, or any bespoke games you desire)
Let Genie work his magic (behind the scenes Genie will take everything you've entered into the eLearning project and automatically populate the game)
Delight your learners! Once Genie has waved his magic wand, you'll have some incredible game-based eLearning that will make your learners happy and get them engaged, enthusiastic and motivated.
We're pleased to say that the interest in Genie was phenomenal. Whether it was people visiting us because of our awesome Genie-themed outfits or being directed to our stand by colleagues, we were bowled over (and delighted!) by the number of visitors wanting to find out more about our game-based authoring tool. It just goes to show that when you create something unique it'll capture people's attention.
Want to find out more about Genie? Check out the video below and click here to read more.
If you'd like to chat with us about Genie and what he can do for your organisation, click the button below and we'll get in touch.
[hs_action id="8903″]