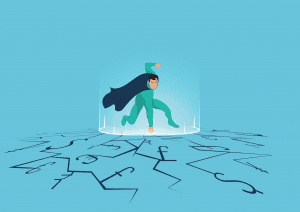 When it comes to choosing the right LMS, tastes can vary per company. Some require diverse admin features. Some put an emphasis on multimedia learning. Some want an LMS that can make toast and travel time. (Actually, that would be amazing!)
There's something that tops the lists of every LMS buyer, however: Return On Investment.
The fact is this: There's no point in purchasing a NextGen LMS if it won't deliver ROI. What's the point of swanky features if it doesn't help you drive engagement and in turn ROI?
With Growth Engineering's learning technologies, everything is carefully optimised to maximise learner engagement, drive behaviour change and in turn deliver a return on your training investment.
Here are four NextGen features that your LMS can deliver on. If it doesn't, you could find yourself stuggling to deliver any measureable ROI!
1. Modern UI/UX
You could have the most amazing content in the world, but if your LMS is difficult to navigate then your learners might not even find your content in the first place! Finding your content shouldn't be the challenge. Save learner frustration by using an LMS with a slick UI and bingo: you'll have an easy-to-use, clean and clear that your learners will love. This will help them complete the content they need to. With more learners completing relevant training you'll be getting more value from your platform.
Signs of a Good UI include:
Simplicity
Consistency
Responsiveness
Efficiency
Signs of a Good UX include:
Usability
Ergonomics
Ease of Navigation
Accessibility
Modern UI and UX and ROI
If your UI/UX isn't user friendly, then you'll lose out on a whole host of ROI contributing factors.
For example, learners experiencing a complex navigational system, (ie, they can't find the content library) will spend more time searching for content than actually learning content.
The lower the productivity, the less the return on investment.
The Academy LMS introduces social learning tools such as Clubs, a social wall and an Experts area. This gives them plenty of opportunity to share knowledge.
---
2. Mobile Learning Tool
A great indication that you're dealing a NextGen LMS's is that it's mobile responsive. If it's not mobile responsive, then there's little chance of appealing to the digital natives within your company. (Also known as iGen, Gen-Tech or Gen-Z). How can you tell if it's not mobile friendly?  One of the main giveaways is responsive sites will change size according to browser window size.
Mobile responsiveness is one thing, but only the very best NextGen learning systems can deliver training on a dedicated learning app.
Mobile Learning and ROI
The typical mobile phone user touches their phone 2,617 times a day. Those in the top tier of phone users touch their phones around 5,400 times per day. In other words, our mobile's are now extensions of ourselves. You can tap into this engagement with a mobile learning app. If you deliver training via an app you can be confident you'll drive as many learners to your content as possible, helping you maximise your return.
---
3. Performance Management Suite
Legacy LMS's are simply online portals that allowed you to complete learning units and then report on them. They are clunky and hard to use. Simply plnoking training in an online warehouse is no help to anyone. Sure learners will complete training, but will it translate to behaviour change? Unlikely.
The best training platforms provide you with tools to ensure that head-knowledge becomes everyday employee behaviour.
Using the Academy LMS, you can also analyse your learners performance and report on their success. By reading data and generating graphs and charts, you can see where individual learners need support. The performance Centre allows you to assess, give feedback, report on progress, organise reviews and a whole load more!
Performance Management Suite and ROI
Monitoring your learners' progress saves time (and we all know that time is money). You'll soon be able to determine if a certain area of work needs some TLC. The Academy allows you to push content to a learner, so it's a truly tailored experience. Personalised learning is a fantastic route to ensure ROI, as the content is bespoke to learning requirements.
---
4. Employee Engagement
Employee engagement is the key to encouraging efficiency and building a dynamic organisational community. Companies like Facebook, Twitter and Innocent are well-known for creating a thriving work culture. Once employees know how important they are to their organisations, their engagement levels skyrocket!
The Academy LMS has been meticulously designed to boost engagement. Learner engagement includes aspects such as; gamification, social learning and helping learners understand the value in what they do (or as we call it; Epic Meaning!)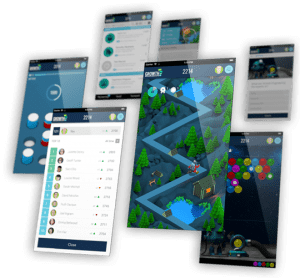 Employee Engagement and ROI
Employee engagement is essential to driving success. It's this simple: The more engaged your workforce is, the more productive it will be. In fact, an engaged employee is 12% more productive than someone who is just going through the motions. Across a business and over time, that 12% is a huge improvement.
Stats like these prove the power of employee engagement and why we hold it with such high regard.
---
Final Word
NextGen LMS's are simple yet intricate. They're adaptable yet robust. They're gamified yet sophisticated. Having all bases covered means they're the perfect tool to deliver a considerable return on investment. Implementing a modern UI/UX means less time is spent on tedious things like navigation. The engagement a NextGen encourages boosts productivity in learners, again, giving you great ROI.
As NextGen solutions are already optimised for mobiles, they're integrating with our most favoured gadgets. Once again, this saves time, giving us more opportunity to be productive. Then there's the performance management aspect. By keeping tabs on your employee learning journeys, you'll be able to push content and assess how you can help them develop! Alert: Your ROI is now off the scale!