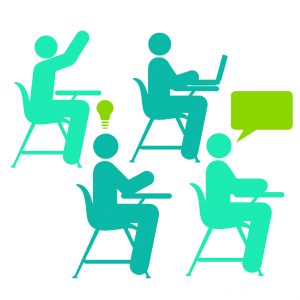 It's no secret that we at Growth Engineering are strong believers of the power of online learning to upskill entire workforces and create real, lasting behaviour change. The evidence is there: online learning engages learners, gets them motivated in their training and helps organisations to flourish.
But that doesn't mean we don't also see the benefit of blended learning.
Blended learning, you may know, involves combining the online and offline worlds of learning to create a solution which is engaging, effective and transformative. Generally speaking, blended learning would involve the use of technology in classrooms to supplement the syllabus. It can be very effective, yet there is another method, known as 'flipping', which is even more so.
Flipping the classroom
Rather than supplementing classroom activities with technology, flipping the classroom involves turning the whole process on its head. Rather than teaching learners the syllabus and assigning learners content in class that they then need to work on in their own time, the flipped classroom would encourage learners to undertake the relevant eLearning units before the classroom event. This way, no time is wasted trying to teach the content during class – instead, learners can jump straight into discussions, debates and applying the knowledge.
Being able to discuss the content is important because, as we know, only 10% of our knowledge comes from 'formal' training like eLearning units. 70% then comes from putting what we learn into practice and 20% occurs through observation of others, which includes discussions and sharing knowledge.
Not as much time can be dedicated to this form of learning with the traditional classroom set-up because the syllabus is taught during sessions, which doesn't give learners as much opportunity for discussion, group work or debate.
Individuality
One of the other benefits of a blended learning – or flipped classroom – approach is that it allows for individual learning styles. Assigning learners content to go through in their own time, prior to the classroom session, means they can go through things at their own speed and often in their preferred format. For instance, visual learners can supplement their learning by watching relevant videos, and people who prefer to learn by putting things into practice will have the opportunity to do so back in the classroom.
Interactivity
Rather than being forced to sit and watch a lecturer droning on for hours and hours (yawn), learners get the opportunity to truly interact and engage with the content and get their hands dirty.
It's pretty clear that blended learning does make a difference. A 2010 meta-analysis by the US Department of Education found that students exposed to both face-to-face and online learning were more successful than students exposed to one form of training or another. You can read the report here.
Want to find out more about how you can bring technology into the classroom to create a more social, engaging and effective classroom environment? Download our free white paper below!
[hs_action id="6449″]