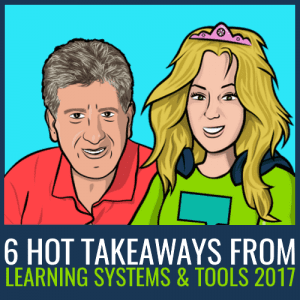 Dig into my 6 tasty takeaways from Elliott Masie's Learning Systems & Tools '17. I reveal how these learning tips and trends can help you unleash superheroes. Enjoy!
Last week I flew across the pond to Chicago, home of windy streets, bean-shaped work spaces and dotty paintings. I had little time to ponder the finer details of Pointillism – I was headed straight to Elliott Masie's Learning Systems & Tools conference.
The event promised to be an illuminating occasion focusing on the learning industry's hot topics and emerging trends. I was especially looking forward to hearing about the growing role of personalisation and apps in learning. I am a massive advocate for both!
6 Tasty Takeaways
Couldn't make the conference? No fear! Get comfortable, grab your cup of Joe and virtual Chicago Dog (highly recommend) – as I deliver my 6 key takeaways from Learning Systems & Tools 2017.
1: No One Understands xAPI
First and foremost – no one understands xAPI! For anyone out there still unsure about this nifty technology…xAPI is all about creating an unforgettable learner experience. It's what makes personalisation and other essential online learning features possible. xAPI is the software specification that collects and tracks learner experiences. The data can be used to tailor training towards your learners' individual needs, preferences and goals.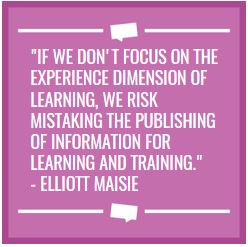 So, it's massively important to the success of your online learning! Why? In a world where people are increasingly motivated and engaged by meaningful experiences, centering your training on the  personalised learner experience matters!
2: Lack of Senior Buy-in is Bad News for Learning
As many L&D pros know, senior level buy-in can make or break your online learning. It doesn't matter how advanced and brilliant the technology is, if the interest and support isn't there, the training tools won't succeed.
L&D teams with big online training dreams need to convince managers, directors and the CEO that learning technologies are worth the investment. It will take a clear learning strategy, communications and strong business alignment to get everyone on board with your online learning plans.
3: A Compelling Learning Strategy and Strong Business Alignment
To secure company-wide support, your learning strategy needs to have strong business alignment. It should also be flexible and ready to adapt to changing business needs. Importantly, it needs to address learners' personal goals as well as the wider company vision. Above all make sure your online learning is engaging!
Learning technology companies also need the personal touch! Just like the best online learning, our product offers need to be tailored to customers' business needs, goals and culture. If we work closely with L&D teams from the start, we can create company-wide buy-in together. All this fosters fertile grounds for successful online learning.
4: Skills Gaps Hinder Learning Technology Success
Sometimes learning technologies are just too advanced for their own good! Your customers may have great ideas and good intentions but if they don't have the skills to successfully implement advanced technology, it won't work.
Beware of the skills gap! Many companies just don't have the digital skills to implement the most advanced learning technology. That's why customer support and training matters. We need to fully train and support L&D teams so that they can get the most from our products. Make your customers the learning technology Subject Matter Experts!
5: Video is the Future of Online Learning
The growing popularity of video content is now common knowledge. Nothing surprising there so far. Yet what may surprise you is that it's not just the funny cat videos getting people's attention. Educational videos are viewed twice as often as those in the Pets & Animals category.
Instructional designers need to tap into this demand for for educational video content. The great thing about video is that it's perfect for both informal and formal learning. You can even encourage learners to create their own video content which boosts learner involvement and engagement levels!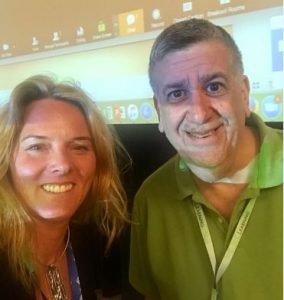 6: There's a Personalised App for That!
Unsurprisingly, there is a growing demand for learning apps. And it's only going to get bigger, with people spending 52% of their time on digital media, using apps.
The conference got me thinking about what's better than a one-size-fits all app? A personalised app of course! Generic apps are meaningless. Personalised apps = Epic Meaning!
I'm talking an app for every aspect of the learner's journey…An app for onboarding, for your first 30 days on the job, for the team away day, for your #MondayMotivation. Whatever your learners needs, there's an app for that!
---
App Happy with The Knowledge Arcade
It's great to hear that apps are the future of online learning because I fully agree! I am proud to say, at Growth Engineering, we're well on the way to meeting this demand. We're launching our awesome new app, the Knowledge Arcade, in summer 2017.
The Knowledge Arcade includes social features, mobile game templates, PVP learning battles and more. All this combines to deliver microlearning campaigns of epic proportions, to unleash superheroes throughout your organisation!
—————————————–
So, I hope you've enjoyed these tasty takeaways from Learning Systems & Tools '17! Hungry for more? My upcoming book, Unleashing Superheroes is on it's way to give you everything you need to create successful organisational change!
P.S. Were you at the event? What were your key takeaways?
—————————————-
Join our mailing list to keep up to date on all the juicy details about Unleashing Superheroes.
[hs_action id="16865″]