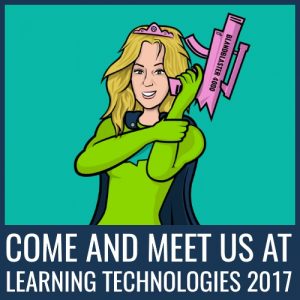 It's a tale as old as time. You splash out on the cape you've had your eye on for ages, but don't have an excuse to wear it. Until now. Learning Technologies 2017 is just around the corner and it promises to be epic!
Thousands of people that share our passion for learning will descend on the London Olympia across 1-2 February for heaps of learning awesomeness! You'll be able to find us throughout both days of Learning Technologies 2017 at Stand L5. Not that you'll be able to miss us. We'll be cape-wearing bundles of fun, aiming a Bland Blaster in your direction!
If you're in any doubt that a Learning Technologies event isn't a big fat slice of learning splendour, then just look at how much fun last year was…
We'll be showing off our pride and joy, our gamified, social Academy LMS! You may have heard that it was named the world's Best Gamification LMS by eLearning analyst Craig Weiss, so you'll want to come and see what all the fuss is about. You'll also get a chance to find out what's new with Genie, our game-based authoring tool which has landed us on Training Industry's 2016 list of Top 20 Authoring Tools Companies!
Whether you're looking to take the first steps in an eLearning origin story or you need help defeating zombie leaners, the Growth Engineering superheroes will be around to answer all your questions. You're in safe hands with Growth Engineering at Learning Technologies 2017.
Last year our Ideologist in Chief, Juliette Denny, wowed the crowds at her seminar, "Gamification: Your Secret Weapon Against Zombie Learners". The show, which was voted 'Most Appealing Seminar', was a big hit with everyone and you can check out below…
You'd have to be crazier than Superman eating kryptonite flavoured ice-cream to miss out! Entry is absolutely free for both the exhibition and the seminars. You can book a place here.
But I know what you're thinking. Did you really think we'd forgotten? Yes, we will be handing out our notoriously awesome badges! We're so excited to see you at the event in February that we'll start ironing our best capes right now!
Once you've got your golden ticket, why not let us know you're coming too? Fill in the form below and let us know when you'll be at Learning Technologies 2017. We can then book you in for a one-on-one slot and show you how to unleash your inner superhero!