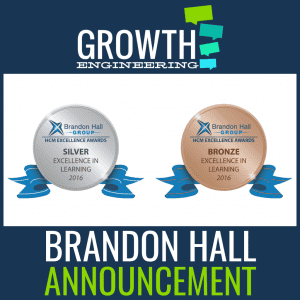 It's that time of year again. The kids are back at school, the adults are trying to squeeze in a cheap holiday, and of course the learning and development industry's awards season is in full swing!
This is always our favourite point in the calendar, because it's when all of the wonderful organisations that we work with can get their tremendous hard work officially recognised.
This week, the winners of the Brandon Hall Group Excellence Awards were crowned. This is the most prestigious awards programme in the industry, and the awards recognise the best organisations that have successfully developed and deployed learning solutions that have achieved measurable results.
That's why we're absolutely over the moon to have snagged TWO awards, along with two of our amazing clients! These are a huge testament to the inventive ways they're using our gamified, social Academy LMS.
Let's see what's been added to the trophy cabinet:
[us_separator type="default" icon="fas|trophy"]
Hendrick Automotive Learning Online (H.A.L.O.) – SILVER for Best Advance in Learning Technology Implementation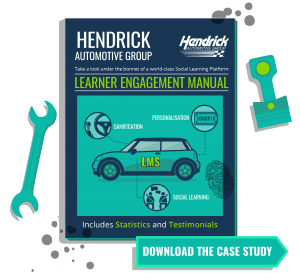 H.A.L.O. is the result of a fantastic partnership between Hendrick Automotive Group and ourselves. It was built to effectively manage and deliver a blended learning initiative to Hendrick's 10,000 employees, spread all across the United States.
One year on, Hendrick had developed one of the most engaged learning communities that we've ever come across! Their platform is a hive of activity, their learners are eating up all of the eLearning, and Hendrick can book classroom sessions efficiently.
The LMS implementation has been an unquestionable success, and it can't be a coincidence that the last quarter of 2015 was the most successful in Hendrick's 40-year history!
If you're itching to find out more, you can download the full case study here.
[us_separator type="default" icon="fas|trophy"]
My Home Move Learning and Development Academy – BRONZE for Best Advance in Compliance Training
My Home Move is the UK's leading provider of mover conveyancing services, meaning that they deal with the exciting legal side of property transfers. We joined forces back in 2014 to launch their Virtual Academy and add some engagement into the dry world of compliance training.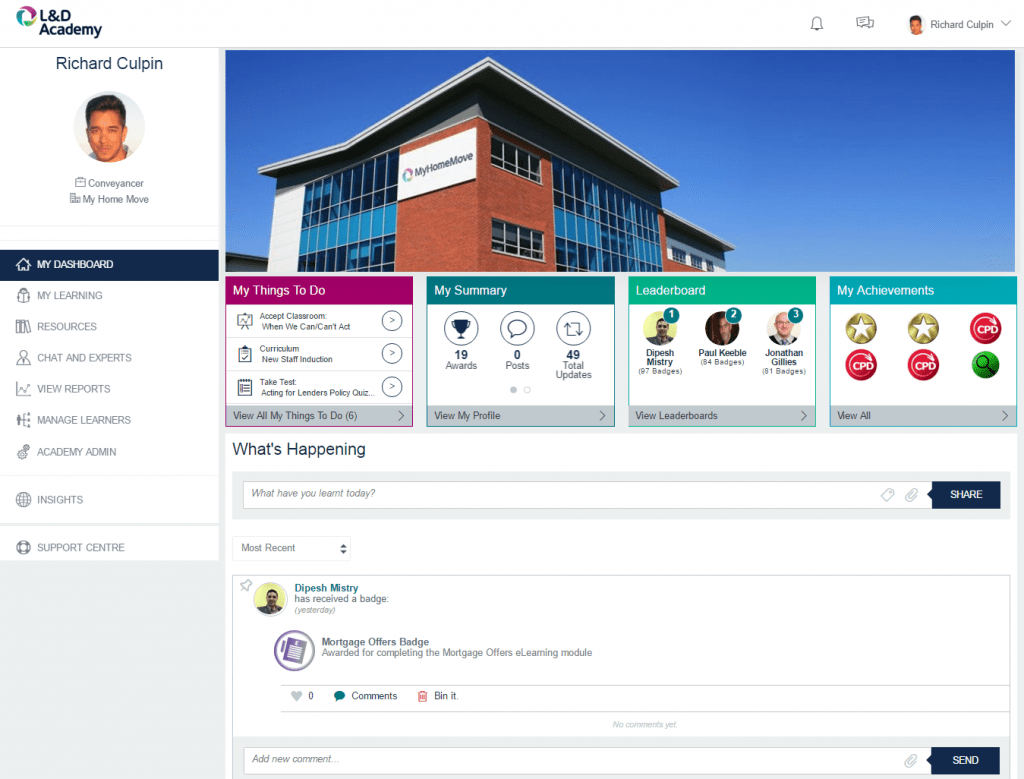 My Home Move's blended learning solution includes gamification and social functionality to engage learners with their training and to increase its effectiveness. They also use innovative content creation techniques to teach compliance topics in a story-based manner.
The project has been a resounding success! It's delivered cost-effective CPD training to My Home Move's workforce, allowed hundreds of trainees to graduate as qualified conveyancers, and has helped establish My Home Move as the market leader in mover conveyancing.
[us_separator type="default" icon="fas|trophy"]
Keep an eye out for plenty more awards news in the near future! And if you'd like to put together an award-winning training initiative, then let's talk: