Do you remember the last time you started a new job? With all of the new people, new processes and new responsibilities, it can be quite overwhelming.
During the onboarding process, new starters are in a twilight zone between knowing nothing and knowing what they need to in order to do their job. For obvious reasons, this process should be as fast, as smooth and as enjoyable as possible.
If you want your newbies to have a great head start, an engaging social learning platform lets your whole team welcome them into the fold.
Your learning management system needs to deliver the induction content effectively. In the old days, you would just lock your newbies in a room with a dusty TV/VCR combo, and make them watch a grainy old induction video.
While video can be an engaging way to deliver learning content, your learners can't properly thrive in isolation. You need to unlock the power of collaborative learning!
Social learning is more efficient
Collaborative learning, or social learning, is a more efficient way of getting your message across. Only 10% of what we learn comes from formal learning materials – the rest, we pick up from our experiences and from interacting with our colleagues.
With a social Learning Management System, like the Academy LMS, you can give everyone in your team a collaborative learning platform – whether they're fresh-faced newbies or veterans that have seen it all.
Identify experts in your team
If you're lucky enough to have a few experts in your team, the Academy LMS lets everybody find these know-it-alls and tap into their experience. If one of your learners has a question, they can access the Chat and Experts area and find the perfect person to ask.
These questions then get added to the FAQ area and can be accessed by anyone else. This contributes to an ever-growing bank of information that's visible to all. In essence, your learning management system will be automatically populated with content with little or no effort from the Learning and Development team.
Levels create a clear induction journey
For a more structured induction program, the Academy LMS lets you create an onboarding path composed of levels. This is just one of the Academy's gamification features and it creates a more engaging learning experience and a clearer journey for the learner.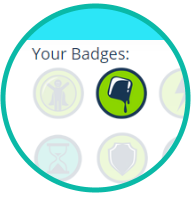 A little encouragement goes a long way! As your new starters engage with their learning content, and the platform itself, they can earn badges and achievements. Each of these virtual trophies represents another learning hurdle successfully jumped!
The more badges they earn, the higher they climb on the company-wide leaderboard. This game mechanic encourages healthy competition between all of the learners, adding to social engagement levels and ultimately revolutionising your company culture.
Meanwhile, your new starters can interact with the team on the social feed and in specific discussion areas called Insight Groups. Each of these groups has its own Top Contributors leaderboard, letting your learners get recognition for their expertise.
With all of these tools at their fingertips, your new recruits will feel like a part of the team in no time at all! Our Social Learning white paper has all you need to know about improving your processes (including induction) with a collaborative learning platform. Just click the button below to become an overnight expert in Social Learning!
[hs_action id="6177″]