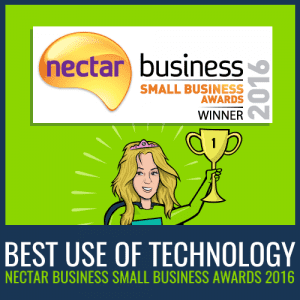 It's been a veritable hive of activity here at GEHQ. All the GE bees have been buzzing with excitement at the latest news – we've just collected another award for being awesome! We've beaten some tough competition to win the award for Best Use of Technology at the 2016 Nectar Business Small Business Awards!
Our dedication to learner engagement and our stellar expansion helped us to stand out from the crowd and left the judging panel nodding with approval.
Among the judges was none other than Sarah Willingham, a real-life, honest-to-god, dragon (or star of BBC's Dragon's Den)!
[us_separator type="invisible" icon="fas|star"]
Sarah has some lovely things to say about us:
"Growth Engineering is a thoroughly deserving winner of the Nectar Business Small Business Awards Best use of Technology award. This is a truly great business, a really smart way to learn and its growth rates are incredibly impressive… Growth Engineering proves that with hard work and a clear vision it is possible to achieve anything."
Thanks, Sarah!
Our Chief Ideologist, Juliette, was over-the-moon of course:
"It's brilliant to be recognised at the Nectar Business Small Business Awards and this win reiterates the strength of our business."
Aside from a very fetching certificate, we also scooped £2,000 cash and 50,000 Nectar points – both of which came in a suitcase handcuffed to a surly bouncer's arm (not really). All of the team here at GE were thrilled to hear of Juliette's spending plans…
"We can't wait to use the prize fund to treat the team for all the hard work they've put in which has enabled us to be in this position, and to receive first hand advice from some the UK's brightest business minds."
Looks like we're going to have an extra-special Christmas party this year!
It's been a great year so far for awards here at Growth Engineering. The dust still hasn't settled on our Brandon Hall double-whammy back in September and let's not forget our Learning Provider of the Year accolade from the Learning Awards! 2017 is shaping up to be even better, with some promising shortlistings already on the cards. Stay tuned to the GE Blog for more awards news!
If you want to see your company's name engraved on a sparkly new trophy, there's no better partner than GE to get you there. Click the button below to get in touch with us and find out how a better learning solution can help your business make huge strides!