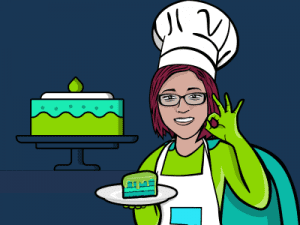 Last week, we took a very special coffee break at GEHQ, to raise money for Macmillan Cancer Support! Read on for all the gooey details. Warning: It gets sticky!
We all love cake at GEHQ, especially when it's in aid of a good cause! After all, the battle against dull online learning is hungry work which means there's always room for the odd Victoria sponge… or five. So, last Friday we put down our Bland Blasters, pulled on our oven gloves and baked tasty treats to help Macmillan fight cancer!
---
Of course, we weren't alone! Friday 29th September 2017 was the date of Macmillan's 'World's Biggest Coffee Morning'. The event saw millions of people unite to raise money. We're honoured to have joined this global phenomena to support people battling cancer and raise awareness. Although I never need an excuse to polish off a chocolate brownie, knowing we're "changing lives with every slice" made it taste even better!
I am thrilled to announce, Growth Engineering raised £120 for Macmillan!
Fun At Work: Baking A Difference
I was delighted to see everyone at Growth Engineering getting behind this important cause and having fun! Workplace events like the Macmillan Coffee Morning are a great way to create a strong team culture, nurture work friendships and make a difference together!
My fab team planned, organised and baked to make our charitable coffee morning a scrumptious success. We all got involved in supporting the event – whether that meant promoting the big day on our LMS, setting up the cake table, baking a showstopper or simply donating to scoff the tasty treats!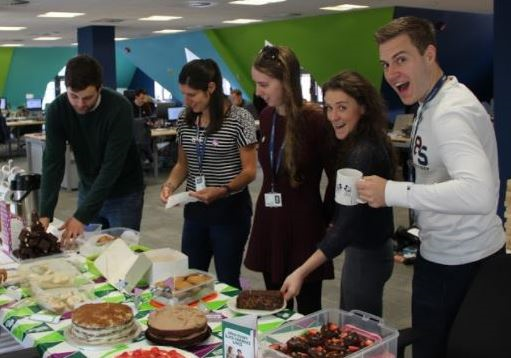 And the Winner Was…
Firstly, special mention must go to everyone who baked for the event. Our cake table was groaning under the sumptuous weight of everything from a gorgeously gooey cheesecake to spiced pumpkin cookies, beautiful brownies and a range of magnificent muffins!
Although it was a tough choice, we voted for our winner. Drum roll please… Our Development Diva, Laura Castiglione, won with her tremendous tiramisu!
Laura said: "Although I do a lot of baking, I was quite surprised I won because I've never done that cake before. There's always a first time! I'm glad it helped this important cause."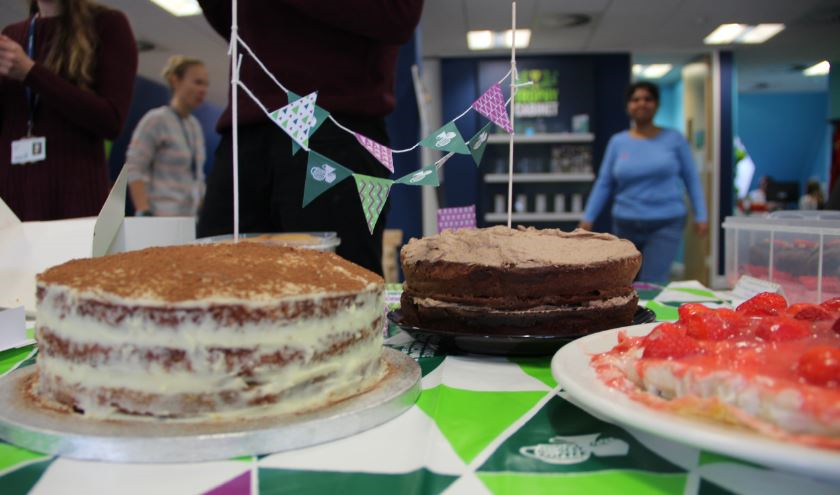 Scrumptious Social Learning
Our Graphic Designer, Dmitry, summed up how we all felt saying (between mouthfuls of vanilla sponge): "All the cakes were mouthwatering goodness! I wish I could bake as well as all that."
The good news is, after last week's event we can all bake a little better, thanks to social learning! We used the coffee morning as an opportunity to share our top baking tips with each other on our LMS message boards!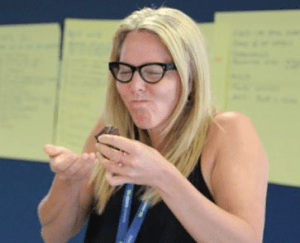 What We Learned From Each Other
Here are a few of the best tips from my talented team:
"Always use golden syrup in your biscuit base and never use garlic cream cheese in the topping. It doesn't end well!"

– CommuniKaty

"Preparation is overrated! Stick your favourite baking playlist on (I recommend 'Bake It Off' by Taylor Swift') and if in doubt always add more strawberries!" – Hashtag Hero (or baking supremo as he asked to be called)
"To make sure your treats taste unbelievable, buy the best ingredients you can find. Even the boring things like eggs make a huge difference to the flavour. Add all your super-tasty ingredients together. Then whip out a spoon and eat the raw mix. It always tastes better raw. Cookie dough time!" – The Lord of Letters
The last lesson comes from our very own, Mary Berry, our winner Laura: "My top baking tip? Based on cookery classes I've taken, I'd say use all five senses when baking."

– Development Diva
---
All these tips sound like another excuse for some experiential learning and more cake! But before I get cracking, I leave you with these thoughts… Always find time at work to have a little fun with colleagues, especially when it's in the name of making a difference. You never know, you may learning something!
Sign up to our blog below to stay up to date on all the action from Growth Engineering.
[hs_action id="16865″]