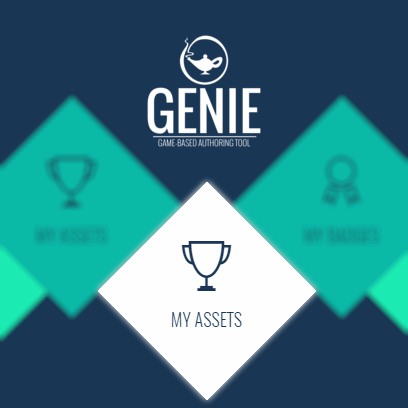 Asset Management in Genie – Overview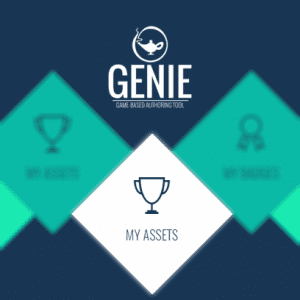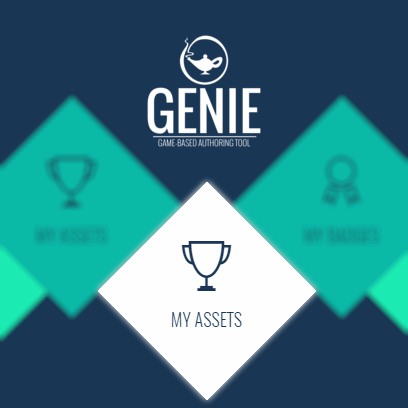 Imagine what your eLearning would look like without any awesome images! Can you picture a piece of learning collateral with no video or audio to keep it interesting?
It's undoubtedly possible to make a text-based eLearning unit without any assets at all, but it's going to need to be pretty magical to hold your learners attention.
Well, luckily we don't live in that upside-down asset-free wasteland – this is the 21st century and there's an invisible cloud all around us filled with all of the assets you could ever need.
What are assets?
In terms of your eLearning, assets refer to the images, videos and audio clips that build up each screen. This covers everything from the voice-over to the photos representing characters in your scenario screens.
Why do they need to be organised?
Choosing assets for your eLearning isn't just some wacky free-for-all. As an instructional designer, the first thing you'll be considering is whether the asset you've chosen supports the learning objective.
But the instructional designer isn't the only person involved in an eLearning project. The company in question is going to be pretty keen to make sure that the assets reflect the brand and their overall mission.
Since few companies sit still for very long, the chances are that your assets will need to be occasionally updated. Without a good system in place to help you keep everything where it should be, you'll run the risk of creating an eLearning unit that's full of contradictions and inconsistencies.
ASSETS IN GENIE
So how does our game-based authoring tool serve your asset needs? Genie currently supports the following asset types: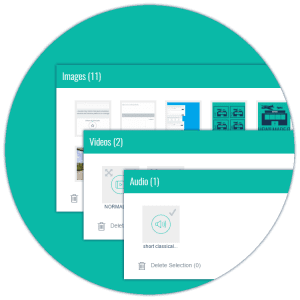 Images
You can easily upload images in a variety of file types like jpgs and pngs and we're even working on enabling animated gifs!
Video
At the time of writing, Genie currently supports MP4 video files. By default, once a video is included in a unit, the learner will need to finish watching it before they can progress any further, ensuring that they don't accidentally skip past some vital message.
Audio
You can add audio clips to your eLearning by uploading MP3 files. To keep everything as user-friendly as possible, the process for adding images, video and audio files is exactly the same – it's just a matter of selecting an empty space and choosing whichever asset you want.
ASSET LIBRARIES
Asset libraries help you keep everything super-organised to make sure you don't lose anything and you avoid
committing any branding-crimes. It's easy to create an asset library and you can assign as many libraries as you'd like to each project.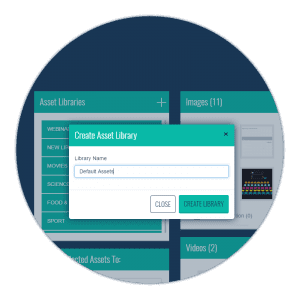 For example, you could create a default library that contains assets that are universal to all of your eLearning units, and create individual libraries with specific assets for each.
This saves a lot of time when it comes to creating new projects as you've already got the basic framework ready to go.
Assigning/Reassigning Assets
If you ever need to switch an image, video or audio clip out of a library and into another, it's a simple process of selecting it, choosing another library from the drop-down menu and hitting the reassign button.
Permissions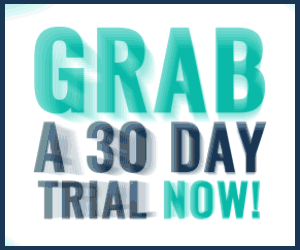 Nobody likes to return to a project to find that someone else has been there and moved things around. You needn't worry with Genie – every user is assigned a role that's custom-built depending on the permissions you want them to have. These roles are fully customisable letting you decide who can edit libraries and who can't.
So there it is – Genie's asset management functionalities! Bear in mind that our authoring tool is changing all of the time and we've got a development roadmap full of new and interesting asset functionalities.
If you want to give it a spin for yourself, and stay informed about Genie's new features, just sign up for your free 30-day demo!