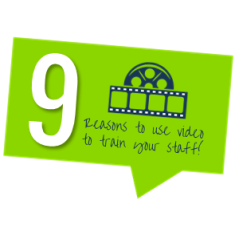 Face-to-face training is expensive; video is a cost-effective, but personal way of getting your message out there. Training via video can slash your training spend and save you a fortune.
Video takes the benefits of face-to-face training i.e. instruction and visual representation and combines it with affordability, convenience and anytime, anywhere access
Videos can be re-watched, re-wound and re-visited as often as the user wants and needs. This ensures that they are able to get to grips with any element of the content they are not confident with, before moving on.
Video appeals to the largest volume of people. We like to learn through visual and audio stimuli. It gives students the ability to see complicated things in a way that keeps attention and shows how and why it works. 3 days after learning something, our brains retain 65% of what we see and hear. Compare this to the 10% we retain of what we read!
People are immediately drawn to watching a video in a way that is lacking in a book, or a downloadable resource. Remember at school, when the teacher said, 'we are going to watch a video today'? Wow, that was a good school day!
Videos are quick to make and can engage the audience by getting team members involved. MD's and CEO's can be wheeled out, to give focus to key messages and reinforce significance. Videos can be hosted on intranets or websites and then students can share, tweet and comment to promote collaborations.
Videos ensure a consistent central message; unlike PowerPoint, which can be amended or ignored. After all, the trainer's video is the same for all who see it, so the message will remain unchanged.
Videos hosted can be tracked and reported on, so you can see who has seen it. Furthermore, users can be encouraged to give feedback, to produce a feedback loop, which can guide improvements.
It's quick and dynamic to produce and set-up costs are accessible to most organisations.
[hs_action id="3486″]