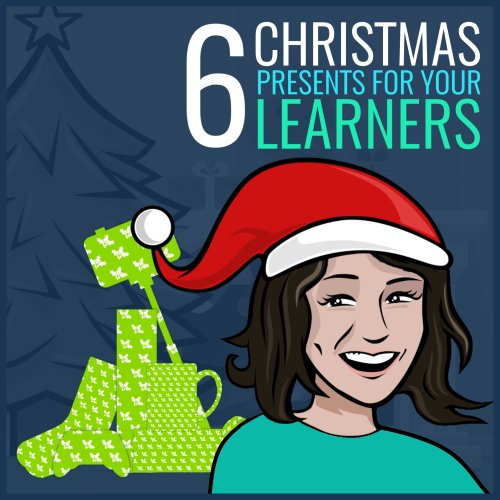 In the immortal words of Noddy Holder, "It's Christmas!". At this late stage, you've probably ordered the turkey, sent all of the cards and found a bottle of that sherry that Nan really likes.
Of course, in all of the rush to finish everything before the big day, you remembered your learners. Surely you wouldn't forget those troopers who worked so hard to achieve their learning objectives?
You forgot about them, didn't you..?
Never mind – all is not lost! Those busy little elves in the GE workshop have been working around the clock to put a winning selection of goodies under your learners' Christmas tree!
Games Console
At Christmas, you're supposed to share every moment with those closest to you. When that gets too much, a games console is a great excuse to shut the world out and shoot a bunch of aliens instead.
Of course, it needs to be productive as well, so instead of opting for the latest Mega Station (or whatever the kids are playing these days), give the Academy LMS a go! Your learners can collect badges and soar to the top of the leaderboard in a fully gamified experience, but all of their fun and games adds up to a Learning Management System that's 100% focussed on their professional development!
A stack of games
A games console without games is just a piece of plastic taking up space. It won't be a very happy Christmas if your learners can't make full use of their new gadget. If they don't have a good selection of games to choose from, they'll eventually lose interest and develop an interest in Pogs instead.
If you're in the business of creating learning superheroes, you need to make sure that your learners have a steady stream of regular content to keep them occupied. You might think that creating eLearning is an expensive and time-consuming task, but with a game-based authoring tool, you can collaborate with your whole team to create something awesome in no time at all!
Selfie Stick
You might have noticed that the world has gone crazy for social in the last few years. Many of your learners are probably active on at least 3 social networks. Nothing says 'I'm a social butterfly' quite like a stick that lets them take pictures of themselves, even when there's nobody else around!
But what are you doing to scratch the social itch in your learning programme? Your formal learning plan (any prescribed documents or assets your learners consume) is great, but it only counts towards 10% of everything your learners will learn. Social learning helps you tap into the missing 90% of work-based learning. With a social LMS, your learners can discuss topics and add their thoughts to an organically growing repository of knowledge to build a powerful learning resource.
Activity Tracker
With the New Year coming up, a lot of your learners are going to feel like making a few resolutions, turning over a new leaf, and getting rid of their dirty old habits. Help them get off to an early start with one of those footstep-counting wristbands!
A fit and lean workforce is great to have, but it's hardly at the top of your list of priorities. As an instructional puppet-master, you're concerned with your learner's professional development and that, as you're no doubt aware, isn't as easy to measure as you might think. The Performance Centre lets your learners and their managers double-team on a winning learning plan to help them go even further!
"World's Most Awesome Learner" Mug
You should recognise all of the hard work that your learners do throughout the year. Don't let them forget about how amazing they are – give them a tasteful message-mug (or a 'goblet of power', as we like to call it)!
On our Academy LMS, you can also treat those learners who go above-and-beyond. With its host of gamification features, you can award your learners with points and badges to keep the learning journey exciting. We always like to go one step further at GE, which is why we've created the Reward Centre. This add-on lets your learners exchange these virtual rewards for real-world loot!
Socks, shower gel, etc.
No Christmas morning is complete without a few pairs of socks and a 3-in-1 shower gel gift-set to unwrap. These staples of the subarboreal gift repository might stem from last-minute Christmas shopping, but that doesn't make them any less welcome.
The Academy LMS is also chock-full of learning platform standards that hardly bear mentioning. Whether you want to roll out an assessment to a particular group, organise a classroom session, or report on your learners' progress, you'll find whatever you need in the (newly updated) admin area of the Academy.
So, spare a thought for your learners and make this Christmas one they'll remember! If you want to see the Academy LMS in all its glory, click this link to sign up for a tour!