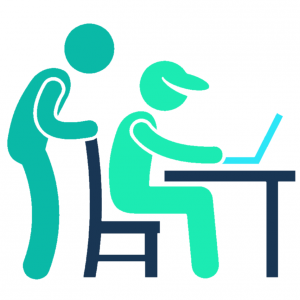 Formal and informal learning opportunities are just part of every workplace learning environment.
Whether you know it or not, informal learning is happening in your workplace all of the time. Whilst it's difficult to quantify, it is thought that it counts for about 90% of everything that your employees learn.
Companies shouldn't break their backs trying to ratio their training programmes to get the balance just right. But it's important to emphasise the role that informal and social learning plays in training.
On that note, here are five ways to boost informal learning in the workplace:
1. Buddy Up for Performance Support
Encouraging everyone – not just managers – to take part in coaching and mentoring can help to improve training and get everyone learning. Buddying up new starters with old hands is a great option, as is setting up an informal mentoring scheme.
It's the perfect way for learners
2. Knowledge Share
Once people get into the habit of sharing their knowledge, social learning will flourish. An intranet, internal forum or even a Learning Management System like our social Academy LMS which gives employees a platform on which to collaborate will boost learning in this way.
3. Showcase experts
Make sure learners know to whom they can turn in order to discover information and learn more about certain things. If they know they can approach Clive in Marketing for help with branding, or Deirdre in Sales for advice on closing sales, they'll be more likely to approach them – and learn from them.
4. Reward social learning
If you see your learners are communicating and collaborating on projects, don't ignore it – make sure they know how much you appreciate what they're doing! On the Academy LMS we reward learners with badges and accolades such as 'Top Contributor'. Making the social learning process fun with gamification is one way to boost informal learning even more. It also ensures that learners don't 'hoard' information and helpful links, but share their knowledge with everyone.
5. Make informal learning required
Functionality on the Academy LMS allows Academy Admins to set certain tasks that are required to be completed before a learner can 'level up' and move on to the next set of learning materials. One of these, which will encourage informal learning, is the 'Know it All' achievement, assigned to learners when they have shared their knowledge 10 times. Only after achieving this award can they level up, making collaboration and social learning essential parts of their learning journey.
Want to find out more about social learning? We wrote a whole tip sheet on it! Get your copy for free by clicking here!