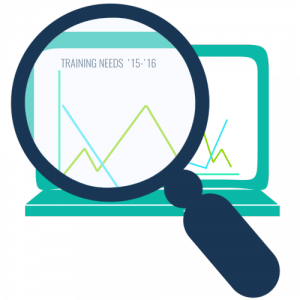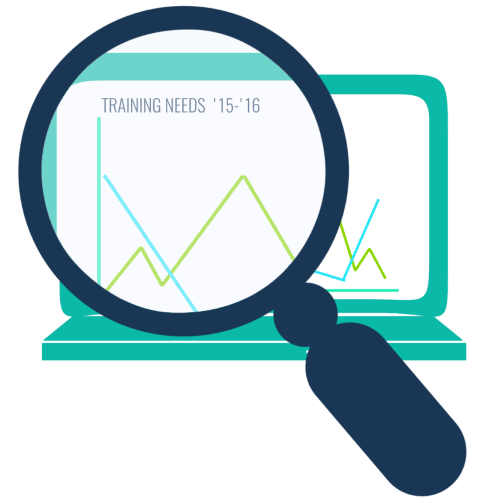 Guys, you wouldn't be here if you weren't looking for some way to get the best ROI from your training programme, right? Well, the bad news is that the perfect L&D strategy isn't going to flutter off of a rainbow and land in your lap. Don't lose hope though – the good news is that your friends over here at GEHQ are more than happy to point you in the right direction!
Before you make the first mark on your training outline, there's one colossally huge step that you need to take first. If you skip it, you might as well complete the rest of your programme with a blindfold on. We're talking about Training Needs Analysis.
Training Needs Analysis does what it says on the label – it's a process of analysing every aspect of your business and identifying the areas that are in most need of a robust training programme. To get your project off to the best start, here are a few handy tips and pointers:

Figure out the big picture
The first thing you need to do is to identify what your company is trying to achieve. Let's say your organisation is a marketing agency that provides several services. It's possible that their video production service costs the business too much money and time, and they'd prefer to focus on web design. If you don't know this from the outset, you could waste a lot of time plotting a training programme that's wholly irrelevant to the company's chosen direction.
History is a great teacher
Before you go off making a bunch of mistakes, review your company's previous approach to training. Here's a whole repository of lessons that can shape your own training program. You can also discover what has produced great results in the past; then you can steal these ideas and claim them as your own!
What problems can
you

solve?

Nobody's perfect, and any company will have a giant wish-list of needs that cover all aspects of the business. You need to know which of these needs can, and should, be addressed by the training. If ancient IT equipment and clunky processes are making things difficult, it's not your job to fix them. Always ensure that you're creating a training program that's appropriate for the company you have – not the one you wish you had.
Keep your finger on the pulse
We've all been there, right? You spend weeks creating some training for an IT system only to discover that, whoops – that system is due to be replaced any day now. That's not only frustrating – it's a complete waste of your time, time you could be spending creating an awesome training programme that actually works. If your training content is going to get the best return on investment, you need to make sure that you know about any recent or upcoming changes in processes or procedures.
Know your toolkit inside-out
It'd be great to have access to a neural reprogramming ray that can instantly zap any information into your learners' grey matter. Unfortunately, such a device doesn't exist…yet (we're working on it). To get the most out of your training, you need to make the best use of the tools you have at your disposal. Maybe that defunct video department can be turned into an in-house training machine. You might not have a learning management system, but perhaps your intranet could be a way of delivering your content. The effectiveness of your training might just hinge on how well you utilise your existing resources.
[us_separator type="default" icon="fas|star"]
Analysing your training needs is the first rung on a very tall ladder, but it is the step on which all of the others rest. Get this part right and you'll have the best foundation for success that you could wish for and you'll be turning your learners into superheroes without the need for brain-altering ray guns!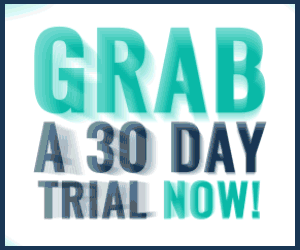 Once you've established your needs, you're going to want a way to solve all of your issues and make your training and development dreams come true. To do this you'll need some awesome content that engages your learners and makes them actually want to learn.
Well, guys – wake up and stop dreaming, because Genie is here to help! Genie is a game-based authoring tool that lets you collaborate with your whole team and easily create learning games that capture your learners' imagination.
Visit unleashthegenie.com now to start your free demo and join the learning revolution!
[us_separator type="default" icon="fas|star"]
Check out 5 More Steps to Training Needs Analysis Heaven for even more TNA pointers!