One of the big dilemmas for managers and L&D folk is how to motivate employees to engage with learning. If employees are not engaged by training they see it as a tickbox exercise on their to do list. At worst it's a dreaded task that reminds them of school!
Let's face it, learning has had a pretty bad rap over the years. Even if you were as studious as Hermione Granger, the mere mention of 'education' can bring to mind cold schoolhouses and clock-watching. Your archetypal teacher is a grumpy, humourless creature with twelve inches of ruler and a psychopathic urge to use it on any insubordinate knuckles.
Here at Growth Engineering, we don't believe in stereotypes! We fight every day in the name of personal development. We understand that for learning to be successful, employees must want to learn. Here we share our top tips for how to motivate employees!
Motivate Employees with Rewards and Recognition
It's pretty amazing what you can achieve by creating a Learning Management System that people actually want to use. So how is it done? We're strong advocates for engaging learners through the power of gamification and gamified power-ups. Why? Because winning rewards and a little healthy competition is fun and when something is fun we want more of it. Learners on the LMS can jetpack their way through their development, fuelled by the promise of badges, gaining a new level, and that coveted top spot on the leaderboard.
But we can only take things so far. As managers, ask yourselves how you can take these virtual rewards and translate them into real-world incentives. After all, what could be more motivating that the opportunity to make your virtual rewards into a reality? Since GEHQ is built on a fountain of creative energy (true story), we're only too happy to share our ideas with you.
Our top 5 tips for how to motivate employees with rewards and recognition:
1. Appreciation and Kudos
Just say 'well done'! It's a simple, silly little thing, but it can make the world of difference. It can take the form of a simple pat on the back or a real-life round of applause at the company-wide briefing. But what about when you just can't offer recognition in person? Not everyone loves massive company-wide emails these days!
Fortunately, we've built appreciation into our LMS in the form of praise badges. The normal badges and achievements on the LMS can be earned by anybody just by doing the required task, but praise badges are something special. They're the jewels of the Academy LMS and are only available to those who go above and beyond the call of duty. Only managers can award praise badges so, if a learner receives one, they know they must have done something pretty special. Once they've got their praise badge, the learner can share it on other social media, meaning the praise doesn't need to stop at work!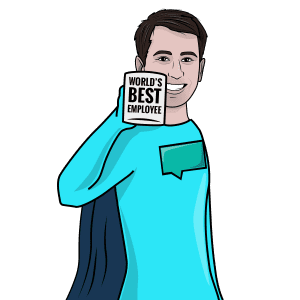 2. Honorary Titles
In every organisation, you'll find people who excel at certain tasks and leave everyone else behind in their dust. Whether they like it or not, their expertise naturally makes them the go-to for a particular subject. When you recognise people for their specialist knowledge, you're not only crediting them for being awesome, you're also identifying them as the resident problem-solver or expert. So, if there's only one person in your company who knows how to fix a paper-jam, why not bestow them with the honorary title of 'M.C. Unjammer'.
Ever one step ahead of the curve, we've also added an 'Experts' section to the Academy LMS. If any learner needs help with a specific issue, all they need to do is find the relevant expert and ask a question.
3. Real-World Benefits
Kudos and titles are fantastic, but there's no substitute for material possessions. After all, praise and status will never be as sweet as your favourite luxury hot chocolate tastes! How to motivate your employees? Reward their achievements and drive their continued effort, with real-world rewards!
We're not saying you should reward your superstars with supercars, but most budgets can allow for small tokens of appreciation. This can be a great motivational tool. It could be as personal as staff trading their accumulated points or badges in for a free sweet treat of their choice. Or if you find something that everybody wants – like the complete Father Ted box set – all you need to do is dangle it over their cage and watch them fight it out to get their hands on it. And where is the best arena for this battle? Why, the Academy LMS of course! You already have the ranking tools of the Leaderboard and the Insights Top Contributor charts, so why not attach some material value to the top spot?
4. Motivational Duvet Day
As an extension to the last point, what do employees value over all things (including satirical Irish sitcoms)? Days off! Yes, we are saying offer your staff a free duvet day! In reward for their hard work and success of course. The next time you're thinking of adding another dimension to your employees' motivation, the merest hint of a sofa-day will put more than a spring in their step – it'll turn them into rocket-propelled succeed-a-trons!
5. Fun at Work
The previous points focussed on awarding the individual, but there are plenty of ways to show the whole team how much they mean to you. Why not reward everyone with a little fun at work? At the lower end of the scale, you could treat them all to coffees and doughnuts, or maybe a particularly hot day might demand an impromptu picnic in the park. For really epic results, you need to make audacious promises! If a particular team performs well, you could treat them to a meal, or take them bowling for an evening. Why not get them to suggest idea and vote on it? As well as fun acting as a reward, social interaction creates brilliant opportunities for friendships at work and social learning. In turn these help keep employee engagement and motivation high!
————————————————
So there you have it – how to motivate employees! The Academy LMS can motivate the socks off your staff, but you can take that success into orbit with a little imagination. Eager for more inspiration? Check out our white paper on engagement by clicking the button below:
[hs_action id="5483″]