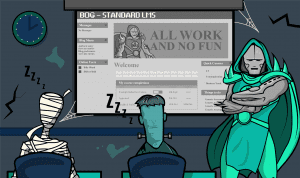 Unfortunately, there are plenty of examples of bad online learning out there… Some might even say frightfully bad…
L&D innovations such as Learning Management Systems have revolutionised the way we absorb information. By utilizing gamification, social learning and Epic Meaning, they guarantee an engaging experience.
However, ghoulishly unengaging methods are still being practised! Below are 5 frighteningly brilliant examples of bad online learning to give you shivers!

---
1. The Tale of the Never-Ending Story
   'It's a dark and stormy night. The rain taps down on the window like a flurry of frantic claws. The wind howls outside like a choir of bloodthirsty werewolves. The room is pitch-black apart from the glow of your computer. You're supposed to be learning about your new client, but …

YOU'RE READING A 100,000 WORD PDF FILE AND THERE ARE NO VISUALS!'

(Cue horror screams!)
Lengthy, didactic documents without visuals are no longer efficient (thank goodness!). Researchers have found that 65% of the population are visual learners.
Learners following instructions with a visual element learn 323% better than those without.
Have your revenge by …
Breaking up your wordy content with JPEGS, GIFS and PNGS etc.
Using colourful infographics
Inserting quotes
Creating gifographics (animated infographics)
Creating memes
Inserting screenshots
Adding bullet points!

---
2. Mobile Monstrosity
'You scamper down a dark alley, away from the monster's gaze. Its thundering roar can still be heard in the distance. You need a plan of action, and quick. You clutch your mobile with your trembling hands and login to a well-known search engine, but it isn't optimised for mobile use! The site is too big for your little mobile screen. After a flurry of crazed scrolling, you locate the search bar and type: 'How to escape from a 40ft lizard' but you keep having to scroll from side to side to view the results.

You finally click on the first search result. This is just in time to feel the lizard's hot breath hitting the back of your neck…
Even though responsive sites are now standard, there are still businesses out there who haven't optimised their site for mobile use. This will mean missing out on a big chunk of traffic.
When a site is not optimised for mobile, you will experience lengthy scrolling, unresponsive buttons and bad organic rankings.
Have your revenge by …
Creating a mobile version of your site
Using mobile plugins
Using a mobile first-responsive design
---
3. Killer Content
   'You hide in the only place you can see: inside an empty tomb. You pray the Mummy's steps will weaken. Your prayers are not answered. You close your eyes tightly as the Mummy approaches. And then… silence… You gradually open your eyes to see the Mummy peering over you. He undoes the bandage around his mouth to reveal sharp, rotting teeth. He leans in and speaks…

'Your learning material is in-depth and well-researched, but have you ever considered mixing up the content? It's a bit… boring if I'm honest…' he croaks, while holding up a tablet.
There are no excuses these days when it comes to shaking up your content. If your learning material is still text only, then your learners are most definitely not engaged. When online, people form a first impression in a mere 50 milliseconds.
Additionally, during visiting a webpage, people read only 20% of the words on the screen. This is why adding different types of content is essential. Examples of bad online learning often will often be down to a lack of content, or content that isn't suited to its audience.

Have your revenge by …
---
4. Be Social or Get Eaten!
   'You sit in the escape pod. You're finally safe from the alien. Your team, however, is not… They bang on the window and scream for your attention. You ignore their frantic efforts to get you to open up. You start the engine and speed off into deep space and let out a huge sigh of relief.

But your peace doesn't last for long…  it seems your team were not trying to get into the pod, they were trying to get you out… you feel the alien's saliva slobbering down the back of your neck…  You now know the importance of social learning…'
The 70/20/10 theory claims that 70% of people learn through experience, 20% learn through social learning and 10% learn through formal learning. That 20% accounts for a big chunk of learners! Social learning can encourage team-building, healthy competition and the sharing of skill-sets across the company.
Have your revenge by …
Implementing 'Clubs' (focused discussion groups) within your LMS, such as specialist department clubs, clubs for general working tips and social clubs.
Setting up a social wall where workers can share user generated content.
Implementing an experts section whereby colleagues can pitch questions to those who have the most experience.
---
5. The Tale of the Zombie Learners
   'You and the rest of the survivors have lived underground since the zombie apocalypse. You have one goal: to teach them the best zombie survival techniques you know. To engage them, you have drawn up a leaderboard which tracks their progress. You also give little treats to those who are at the top. You're getting a bit concerned about one team member, however. They're at the very bottom of the leaderboard. They've shown little interest in learning and are looking fatigued. You approach their bunk for a chat. You hope to spark some enthusiasm in them…

But to your shock, the person turns over in their bunk to reveal a zombified face! It appears they have been bitten by dull-learning zombies!'
Gamification is the process of applying gaming mechanics to non-gaming environments. 80% of learners are more productive when gamification is implemented in learning. There are plenty of gamification examples out there. The Fitbit is a great case in point. It tracks your progress and measures your results against others, invoking healthy competitiveness.

Have your revenge by …
Introducing badges, achievements and experience points on your LMS
Inserting leaderboards to encourage competition
Implementing online gaming using our fantastic game-based content authoring tool: Genie.
Inspire battles with learning quizzes!
---
Final Word:
Examples of bad online learning can fill even the most avid learner with a sense of dread. Make your content engaging by: keeping it visual, ensuring mobile optimisation, varying your content, implementing social learning, and gamifying your training.
Book a FREE demo of our award winning LMS today and abolish dull online learning forever!