All training managers and learning professionals want the same thing – an army of tiny pixies that will do their jobs for them for free. But just beneath this on their wish list is another strong desire.
They want their online learning content to have the greatest impact possible and they want to prove that their learning programme has had a positive effect on the company's bottom line.
On the Growth Engineering blog, we've written countless articles about using learning technologies to engage learners and get a real return on investment. We've disassembled the great L&D machine, examined every piece in great detail and shown you how to use them to the greatest effect.
We've seen how a robust reporting suite can let you track your learners' progress and how Bloom's Taxonomy can lend a logical direction to your learning programme. We've extolled the virtues of gamification and game mechanics, and shown you how to tap into the hidden power of informal learning.
When you place all of this information in front of yourself, it can be a lot to take in. This week, we've asked ourselves what advice we would give to learning professionals if we only had a couple of seconds. How would we, the engagement evangelists, sum up the key to learning success in three simple words?
We thought long and hard about it and although we can't guarantee that we've found the ultimate distillation of training best practise, we're pretty confident that we've gotten pretty close. So what three words would we carve into stone?
Is this awesome?
Without really noticing it, these three words have guided the development of our online learning solutions. When we add a new piece of functionality to our Academy LMS, it's a foregone conclusion that it has to do what it's supposed to, but if engagement is the goal, it has to knock socks off, blow minds and win the hearts of learners and learning managers alike.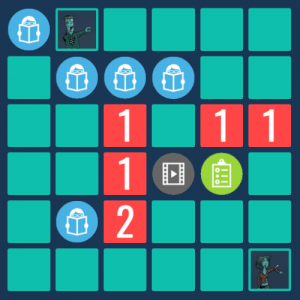 We're a sharing, caring bunch here, so we couldn't keep these words of wisdom to ourselves! The great thing is that they can be applied to almost any aspect of your training programme.
If you've just created a piece of learning content, we're sure you've looked at it from all angles. You've made sure that the learning objective is stated clearly at the beginning, you've included questions to encourage knowledge recall and you've tested it on all platforms just in case there are any annoying little bugs.
You've done all of the legwork, but look at it again and ask yourself "is this awesome?" You might conclude that it's not sock-knocking or mind-blowing, but what does one really expect from a piece of compliance training?
The fact is that we're living in a world of high expectations, where social media provides a constant deluge of engaging and entertaining content. Training content that's 'good enough' simply doesn't cut the mustard anymore and if it's not at least a little bit awesome, your learners will lose interest pretty quickly.
If you've decided that your content doesn't tick the 'awesome' box, there's no need to throw in the towel. True awesomeness is within your grasp and it's not as difficult to achieve as you might expect. If you want to find out how to inject some engagement juice into your online training, download our Engagement Engine Workbook!
We've also got a full library of resources on this very site. Pop on over to our Resources Page and have a look for yourself!