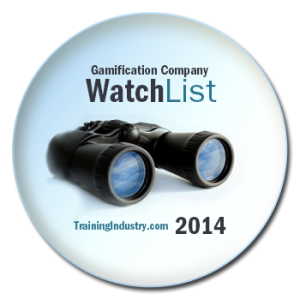 We're really happy to be able to tell you lovely readers that we've just been selected as a 2014 Gamification Watch List Company by Training Industry!
This great accolade is given to just 8 up-and-coming companies who provide gamification products and services geared towards increasing the effectiveness of corporate training.
Growth Engineering were among the eight selected, as we demonstrate excellence in many areas:
Features and capabilities of the gamification products/services
Company size and growth potential
Quality and number of clients/users
Geographic reach
Awards, recognition, and competitive differentiation
For those that don't already know, we were also selected as a 2014 Learning Portal Watch List Company for smashing the following criteria:
New and innovative service offerings
Unique approach to delivering learning solutions
Commitment to improving learning through technology
Quality of initial clients
Pretty impressive, right? We're chuffed to bits to have been selected, and we're confident that next year we'll be sitting comfortably in the Top 20 Lists, having graduated from the Watch lists!
Want to find out more about what we do and why we're creating such a name for ourselves? Sign up to tour our award-winning Academy Learning Management System by clicking the button below!
[hs_action id="7083″]