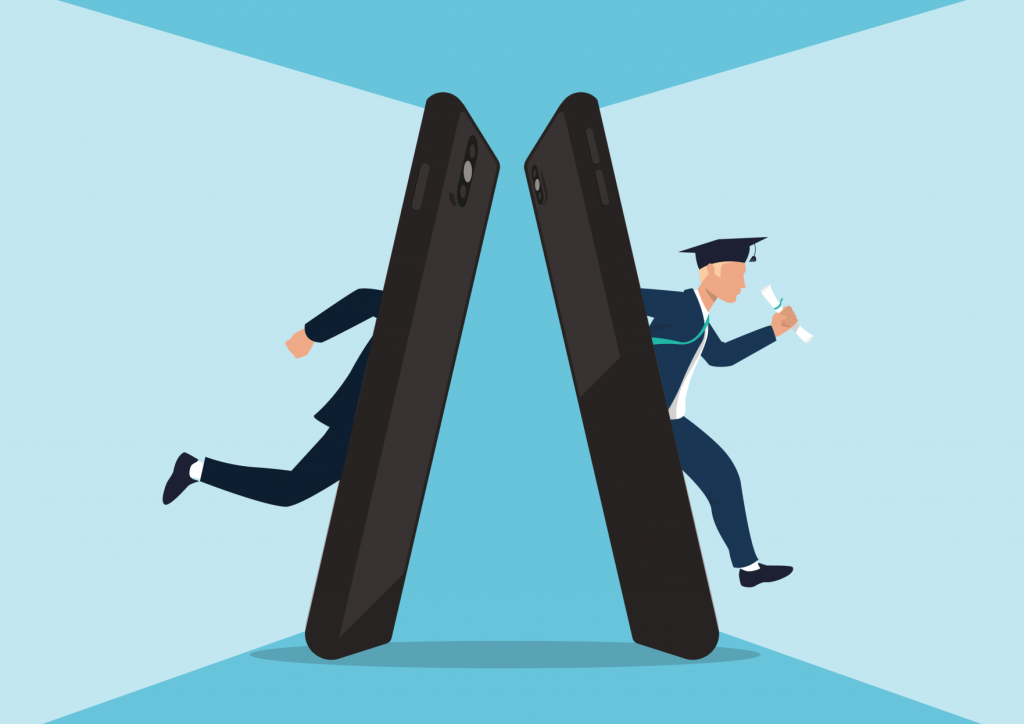 The spread of COVID-19 created a number of challenges. It also served to highlight the importance of digital learning experiences. Educational institutions tasked their instructors and teachers with moving their classes online. But crossing this particular chasm was no easy task. After all, it requires learning new skills and adopting a new approach. Luckily, we're here to help, with 13 top tips for making online classes fun.
It's often held that it's harder to maintain your student's attention through online interactions than it is through the classroom. We believe this to be a fallacy. If you have a rock-solid engagement plan, you'll win your learners' hearts and minds.
Indeed, if you're willing to fully embrace this new medium, you'll be amazed by the flexibility and interactivity it affords you. There's a good chance that you'll be impressed by the results as well.
Your Goal: Unprecedented Engagement!
Successfully shifting from classroom-based teaching to online teaching requires an engagement strategy. After all, if your students aren't paying attention during your lessons, they won't be in a position to learn anything. An engaged audience is also an active audience. This results in a vibrant classroom environment and encourages the types of behaviors and results that you would like to see.
With a fun-focused online teaching game plan, all this is possible. The engagement soon turns into motivation and motivation soon turns into a habit. With this in mind, let's jump into our top 13 tips for how to make lessons fun and engaging online (and how to make online teaching fun as well!).
Tip 1: Pick The Right Tool (& Test It!)
Before you can host your first online class, you'll need to find a video conferencing tool that enables you to connect with your students. Luckily, you have a variety of options available to you.
Market leaders include Zoom, Webex, Adobe Connect, Google Hangouts, and others. Many of these tools have a free option, although you may require a paid subscription to properly meet the needs of your students.
Regardless of the tool you select, you should take the time to learn how to use it properly. Read the instructions, view the tutorial videos, and test out functionality for yourself. Your goal should be to know the tool well enough to support your students if they have any questions or difficulties.
Tip 2: Send Invites & Clear Instructions
Once you've set up the classroom event, you'll need to get invites out to your students. This is typically done within your video conferencing tool. Your invite should include a rough agenda, joining instructions, and a list of anything your students will need to bring with them.
If they're expected to be on their webcams or to utilize their microphones during the classroom session, then you should let them know this. This will give them an opportunity to prepare accordingly.
Finally, you should send out a reminder, approximately 15-minutes before the classroom session is scheduled to begin. This will jog their memory and ensure that the joining instructions are readily available to them.
Tip 3: Stay Secure
COVID-19 has facilitated a bump in online meetings and classroom events. In turn, increased scrutiny has been placed on the security offered by video conferencing tools. Luckily, there are actions you can take to secure your online classroom and ensure it is a safe space for you and your students. We recommend following these steps to keep your online study sessions safe:
Don't share meeting invites in public forums.
Password-protect your meetings.
Use a 'Waiting Room' to control who joins the meeting.
Make sure you know all participants in the room.
Ensure you know how to manage (and remove) participants.
Tip 4: Show Your Face
A disembodied voice is not half as engaging as seeing you in action. So turn on your camera and engage directly with your audience. To maintain their attention, you should ensure you are talking directly into your camera. This will help you to stimulate a more personal connection with your students.
But the considerations don't stop there. Don't sit too close to the camera. Don't sit too far away. Find the comfort zone and stick in it. Check the lighting in your room. Ensure the acoustics are good. It shouldn't look like you're broadcasting from a dingy basement or a messy room. If you can remove distractions like these, you'll help your students to apply their focus in the right way.
Tip 5: Set Ground Rules
Successful online classrooms require a teaching strategy. This means you need a clear structure and structure requires rules. Having clear ground rules sets expectations for your students and encourages them to take your classroom event seriously.
These rules should help to limit unnecessary interruptions and distractions, ensure a safe learning environment and provide equal opportunities for all to participate.
You should discuss online etiquette with your students and make your expectations clear. How should they ask questions? Should they be on 'mute' whilst they are listening? Are they allowed to use the 'Chat' functionality? If so, what limitations will you place upon it?
We recommend writing up a list of ground rules and running through them at the start of every classroom session.

Tip 6: Follow Microlearning Principles
No matter how good a teacher you are, you can only maintain a student's attention span for a certain amount of time. Child development experts note that attention spans vary depending on the age of the audience.
For instance, 6-year-olds can pay attention to a subject for 12 to 18 minutes. On the other hand, 12-year-olds can pay attention for 24 to 36 minutes. Consider your audience and bear this in mind when creating your lesson plan.
To help better support your students stay focused, we recommend the following microlearning principles. This requires chunking up your content into small focused bursts that can be consumed quickly. Think about how you can break large topics down into their smaller constituent parts. Then think about how you plan to communicate each element.
Try to vary the medium wherever possible to maintain engagement. Fun online classes require variety. For instance, you might start by introducing the concept, then play a video, then solicit questions before conducting a breakout group session and finishing with a quiz.
Tip 7: Record Your Lessons
Here's a simple, practical piece of advice: record your online classroom sessions. These recordings are useful for a number of reasons. For example, there will be occasions when one or more of your students are unable to attend. Whilst this is not ideal, they will at least be able to catch up with the session in their own time by viewing the recording.
What's more, these recordings may prove to be useful resources. When they need to study, your students may dip back into your lessons in order to recap certain topics. You could also watch the recordings to help critique your own technique or approach.
Doing this may also help to uncover things you've missed. Perhaps there were students who didn't get their questions answered. Now you can take the opportunity to respond outside of the class.
Tip 8: Check-in Periodically
You should check in with your students on a regular basis, just as you would in a physical classroom. Take care to ensure your audience understands what's been covered so far. Ask some challenging questions. Solicit further questions from them.
It's important to ensure students don't get left behind in the online learning world. Equally, it's important to establish what your students should do, if they feel they don't fully understand any part of your lesson.
Many video conferencing tools offer some type of polling functionality. We recommend using this to determine your audience's level of knowledge on a particular topic, before moving on to the next item you have to cover.
Tip 9: Monitor The Chat
Many video conferencing tools also offer a social media-esque 'Chat' area, where participants can communicate with each other. You should first decide whether this functionality will be used within your online classes. Following that, you should set some clear guidelines on how it should be used.
Ask your students to use proper spelling, grammar, and punctuation. Make it clear that inflammatory or disrespectful language will not be tolerated. With these rules in mind, check the 'Chat' area on a regular basis. It can be a great way to monitor the temperature of the room, solicit questions from your audience and check their knowledge.
Tip 10: Provide Interactive Activities
We learn best when we're active participants in the learning experience. As such, you should seek to banish passivity by incorporating interactive activities into your online classroom. Examples of these include icebreaker activities, puzzles, presentations, pitches, peer reviews, quizzes, brainstorm sessions, games, and even virtual field trips.
Look for ways to involve students who are less outgoing than others. Review different activity types and make a note of which ones really resonate with your audience.
You will be able to conduct many of these activities directly through your video conferencing tool, regardless of internet connection. For instance, you could task a student with solving a puzzle via the 'Whiteboard' functionality. Alternatively, you could use a free third-party tool to capture your learners' imagination (more on this in Tip 13).
Tip 11: Assignments & Breakout Groups
As a classroom-based teacher or instructor, there's a good chance that you've previously split up a bigger class into smaller, task-oriented groups. This works well because it inspires peer-to-peer participation, encourages mentoring, and drives creativity.
There's no reason why this approach should be dropped from the online classroom experience. Indeed, most video conferencing tools offer 'breakout room' functionality. Zoom, for instance, enables up to fifty separate sessions per meeting.
As the host, you will be able to switch between sessions as you wish to check on progress. Once your students have had a chance to discuss a topic within their groups, they can return to the main classroom session and present their findings. Whilst it can take some configuration, this is a powerful weapon to have within your online teaching arsenal.
Tip 12: Explore Other Free Tools
Whilst your video conferencing tool will help facilitate your online classroom sessions, supercharging engagement levels and making your online classes fun may require additional support. Luckily, there are a variety of tools out there that can aid you in your quest for online learning perfection.
For instance, Animoto empowers your students to create 30-second video clips of what they've learned. Alternatively, you could utilize a word cloud tool, a quizzing solution or even learning games to capture your student's attention.
We particularly recommend implementing some game mechanics within your online classroom. There's a wealth of research that shows us that gamification is a useful engagement tool. This is particularly true if you've taken the time to craft your gamification strategy based on what you know about your students.
For instance, you could use a free online badge-making tool to provide virtual badges to students who ask good questions. Or you could keep a virtual leaderboard based on quiz results. Just make sure this is regularly refreshed to prevent disengagement or demotivation.
Tip 13: Seek Feedback From Your Students
Last, but certainly not least, don't forget to solicit feedback from your online students on a regular basis. This will help you to ensure you are meeting the needs of your audience and improve your approach.
There's a good chance that hosting an online classroom is new to you. As such, this feedback is invaluable. It will enable you to address concerns, make subtle changes and build your confidence. You'll need all the help you can get to make your online classes as fun as possible.
How you gather this feedback is up to you. You could do it at the end of the classroom session, request that it's put in an email, or send out an anonymous survey. Just make sure that you give due consideration to all comments and demonstrate an open mind when it comes to making changes going forward.
Final Word
Embracing the digital revolution and making the leap into online classroom sessions can be nerve-wracking. Making online classes interesting is even harder. There's an awful lot to learn and many obstacles to overcome this school year.
But whilst online classrooms are limited in some ways, they also open a virtual doorway to new learning experiences. Learning experiences that are more accessible, more interactive and — dare we say it — more engaging than ever before. All it takes is a digital mindset, the right tools, and a focused approach.
As ever, the secret sauce is engagement. If you can't capture your online learners' attention, then you won't be able to deliver an effective learning experience. But if you follow our thirteen top tips, then you should be well placed to capture your audience's imagination, drive motivation and encourage participation. It won't be easy, but you have all the tools you need. Good luck and happy learning.
Growth Engineering Authoring Tool is our very own game-based authoring tool. Take your online courses to the next level and make your online classes fun by incorporating XP, Badges, Leaderboards, Timers, and more. With Growth Engineering Authoring Tool's intuitive content creation features, you can quickly and easily create engaging online courses that drive real knowledge retention. 
And don't forget to check out our '8 Tips for Teachers: How to Make Online Courses Fun' and '64 Amazing Free Online Tools for Teachers'.