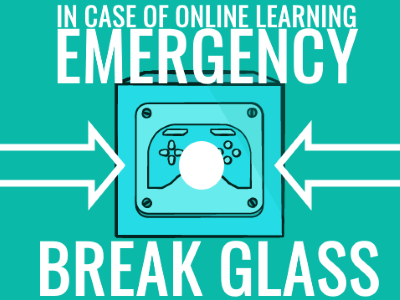 When online learning became popular, a lot of businesses thought it would be a magic wand that could transform their training all by itself. Although online learning has many benefits, it's not as if you can switch over from instructor-led training and instantly reap the rewards.
Online learning has its own set of requirements that dictate whether or not the learning will be effective. Most learning management systems will give you the ability to add content and organise learners and their reporting tools give visibility over who is doing what.
But what do you do if your reports tell you that your learners aren't consuming the content? What if they are consuming the content, but it's not changing their behaviour in any significant way?
Not to worry – here are 10 ways that gamification can save the day!
[us_separator type="default" icon="fas|star"]
Engagement is key
We've spoken time and again about the importance of engagement in online learning, so we won't go into that here! The first and most important point is that gamification is the art of making things more engaging. It works by applying game mechanics (the elements that make games what they are) in non-game contexts to make them more game-like and (if done properly) more fun. Once your learners are having fun, there's a better chance that they'll keep returning.
Shorter Feedback Cycles
The trouble with traditional education models is that they usually comprise of a lengthy period of learning leading up to a final exam. This leaves the learner with no visibility over their progress and thus, no opportunity to correct their course. Although this is an issue that online learning was meant to address, some learning managers are still too attached to tradition. By adding gamification to an online learning platform, the extra functionalities (like badges, quizzes and challenges) make it possible to regularly test the learner on what they've learned so far and provide regular feedback.
Build Team Spirit
By pitting learners against each other, you can create an extra incentive for the individual to try that little bit harder. Adding leaderboards to a learning management system can significantly improve learner engagement, but there are other benefits. If you create team-based challenges, then the success of the whole team is dependent on everyone's contribution. This encourages better teamwork and shows employees how their actions contribute to a larger plan.
Behavioural Change
Your learners can read a training manual from cover to cover and find out all of the facts they need for a basic level of understanding. Facts however don't necessarily amount to real behavioural change. A game-based system lets learning managers focus their company's message throughout every element, and it lets them reward learners for behaving in an ideal way – not just for answering questions correctly.
Adaptive Learning
A gamified learning platform also offers unique options for structuring the training curriculum. Levels, a feature common to games, can also be used to deliver the right content to learners when they are ready for it. Aside from being ranked by relative difficulty, levels can also be created for specific areas of a business, meaning every learner finds themselves on the ideal path for their job.
More interactive
Learning stops being effective when it stops engaging the learner. For example, a training video will only be successful if it holds the viewer's attention for its duration. If the viewer starts looking out of the window instead, the lessons in the video will be lost. Gamification gives the learner a chance to push buttons, answer questions, and apply their knowledge at regular intervals. Aside from engaging the learner, it also lets them learn at a pace that suits them.
The Admin's job is easier
When people talk about gamified online learning, they're normally referring to the learner's experience on the front end. What they don't realise is that gamification can also be applied to the administrative areas. Simple things like progress bars and admin-specific achievements improve the chance of success by engaging the people behind the scenes to be more productive.
Content is improved
One of the great unknown variables in any piece of learning content is whether or not the learners actually found it useful. Sure, any learner can find the learning manager's email address and congratulate them (or not!), but that demands a lot of effort. A gamified system rewards the learners for rating content and leaving comments, meaning there's a much better chance that truly exceptional (or not!) content can really stand out.
Costs are cut
The point of investing in an online learning solution is to deliver essential training to employees. This should ensure that they do their jobs in the most effective way, thus reducing overall business costs. The engagement boost created by gamification helps that training stick better and go further and ultimately generate a better return.
Future proof
By 2020, the global workforce will by dominated by millennials who grew up playing and speaking the language of games. As more businesses realise the benefits of gamification, it's being applied in many areas outside of learning, from enforcing speed limits to encouraging healthy living. Committing to a gamified learning solution now prepares your organisation (and your learners) for a future in which gamification is recognised as the standard.
[us_separator type="default" icon="fas|star"]
If you're intrigued by the power of gamification and you want to know more, just hit the button below to download our white paper!
[hs_action id="10535″]